NO PFC's | NO FR's | WATER FREE DYING
How can a synthetic fabric be green?
Recycling is the process of transforming byproducts, waste, and other trash into new and useful materials. Olefin is the only UPCYCLED fiber available for making upholstery fabric. Olefin is a byproduct of refining petroleum. For many years, it was discarded or simply burned off. The Nobel Prize for Chemistry was won by the scientists who discovered a use for this unique polymer. All Revolution Fabrics are made from 100% pre-consumer petroleum byproducts. 
Are Revolution fibers greener than natural fibers?
Natural fibers like cotton, linen, and wool require lots of the earth's most precious resources… water and land, which are used in large amounts in the production and dyeing of natural fibers. OLEFIN is dyed without the use of water and requires almost NO LAND and WATER for its production.
Because it is produced from what was formerly waste, Olefin has by far the SMALLEST CARBON FOOTPRINT OF ANY UPHOLSTERY FIBER. (Source: Higg Index)
PFC chemicals are used by other performance brands to achieve cleanability. If water beads on a fabric, it has probably been treated with a PFC. These substances, also known as PFOA, PFOS, C8, C6 and C4, bond Carbon with Fluorine. This bond is incredibly strong... that's why they work. The problem is they are persistent, so they accumulate in the environment. Growing evidence suggests these chemicals are toxic, internet search  Madrid Statement for more about this topic.
Below: A video published by The National Institute of Environmental Health Sciences about what PFC chemicals are and the effects they can have on your health.
Water Free Dying
The textile industry has a huge problem. We use a lot of land, water, and energy in the production and dying of textiles. At Revolution Fabrics, We are committed to using water free dying techniques. Watch the video below to learn how we dye textiles.
How do our fabrics stack up?
The Higg Index was created by the Sustainable Apparel Coalition, which includes Patagonia and the Natural Resources Defense Council. A look at how the Higg Index compares the environmental impact of materials used in apparel and footwear. The higher the score, the more sustainable the material (Source: The Wall Street Journal). Click here for link to full article.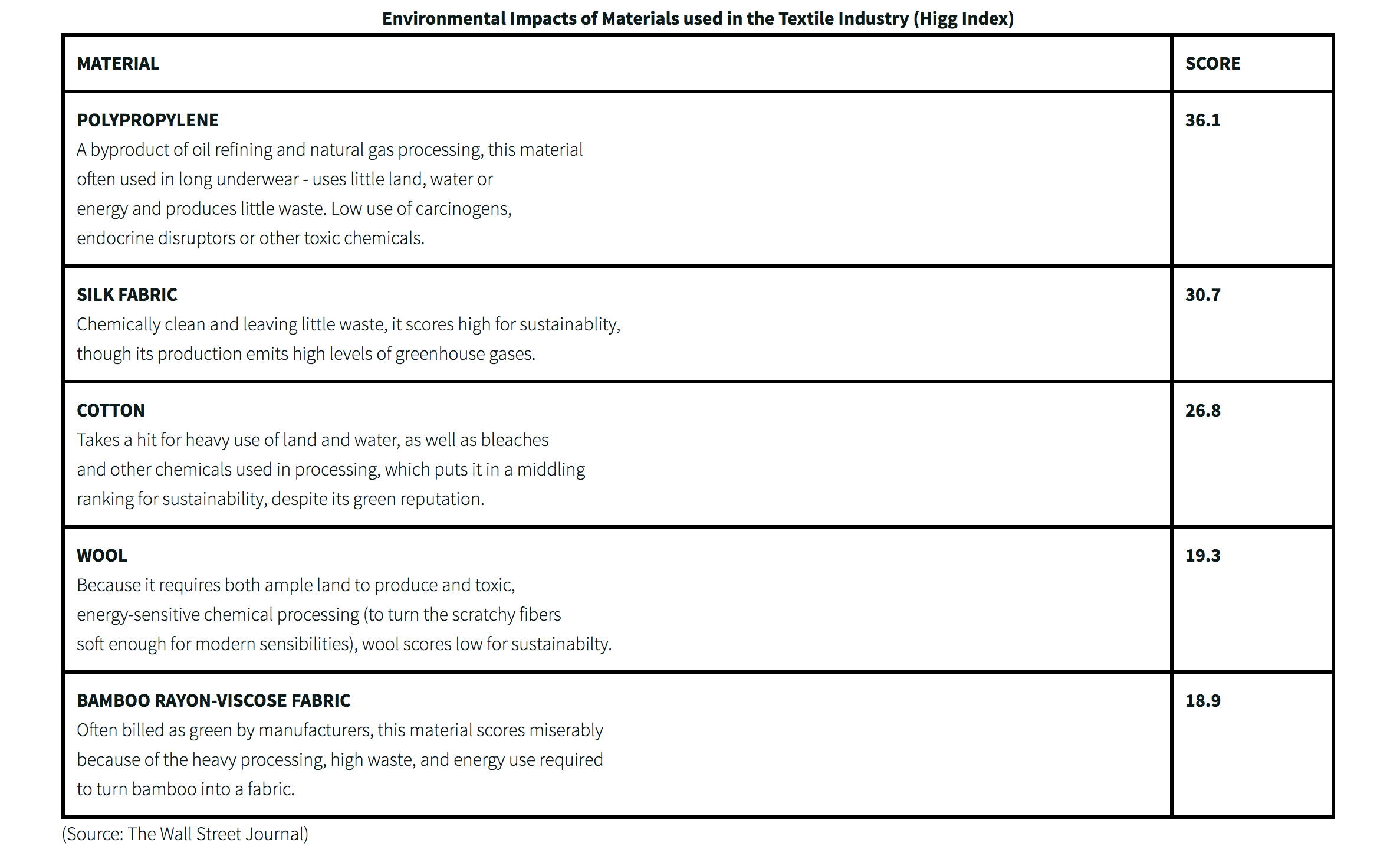 Local Sourcing of yarn and materials
All of our yarns for Revolution are made and sourced in the United States within 300 miles of our mill in Kings Mountain, North Carolina. This vertical supply cuts down on resources, energy consumption, and provides jobs for local workers.
Revolution Fabrics are engineered to be extremely durable, easy to clean, and have a long life cycle.